You might want to wear paint clothes because this could get messy. :-) In this class, we will use the new ScoreBoards die, the Skinny Mini Book Box, to make a Coffee Printed Junk Journal! The book measures 6 3/4" x 4" x 1"- we will make three signatures (journal insert books) in class.
First, we will create the Skinny Mini Journal covers by decorating with coffee printing on matboard. While the board is drying, we will create the pages to go inside the book. My technique for coffee printing on matboard is addicting!. This is such a cool vintage look- I was so happy when it worked! You will also learn my best tips for coffee dying paper. We will construct a pretty junk journal using recycled materials and ephemera, so bring your favorite scraps and papers you have been hoarding! No two books will look alike- this is all about learning how to construct the book- then you can make lots of them to keep, gift or sell.
Eileen will have samples from the team to give you lots of inspirational ways to use the die. If you like these projects, you will want to join Eileen's creative community, the Eileen Hull Fan Club, a Facebook group with almost 7,000 members! In it we share information, projects, some laughs and artful joy. Watch live-stream tutorials on Tuesdays at 6:00 pm and Thursdays at 4:00 pm Eastern at Eileen Hull Designs on Facebook and @Eileen Hull on YouTube. Check out our blog posts once a week with 3-4 new projects created by my team at
www.EileenHull.com
.

Student brings:
Papers for junk journal such as: copy paper, ledger sheets, graph paper, sheet music, junk mail envelopes, etc.
Focal element for front of book- (like a feather, key, charm, jewelry piece)
Ephemera: ticket stubs, lace, trims, photos, twine, old receipts, whatever's in your stash
Cropodile
Corner Chomper * optional
Washi tape
Glue stick
Scissors
Trimmer
Craft knife and self healing mat
Eileen will bring for class use:
665982 Skinny Mini Book Box die
665154 Waterfall & Tags
656492 White matboard (2 sheets)
Cardboard
Gesso
Leather scraps and dies to cut closures
Elastic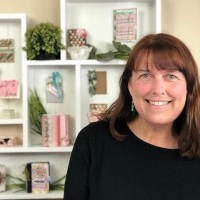 I grew up in a big family where there was always an art project in the works. Learning to think creatively has been a huge benefit throughout my life: from thirteen military moves and raising four children to developing product lines for craft manufacturers.
In 2013, I purchased a vintage trailer on eBay (affectionately known as Scotty) and outfitted it as a mobile studio, traveling throughout the US and Canada- logging over 62,000 miles through thirty-five states. This combined my love of travel and teaching and I enjoyed (almost) every minute of it!
My classes are designed to get students excited about and share best practices for using products I've developed with manufacturers: Sizzix dies, ThermoWeb Adhesives and Maker Forte stamps
During the pandemic, I hosted virtual classes and retreats and developed my online community. Currently, I have started traveling to shows and doing in person classes again. But it's always an adventure… :-)
Please visit my website www.eileenhull.com for inspirational project ideas. Watch my Tuesday and Thursday Livestreams at Eileen Hull Designs! Join the Eileen Hull Fan Club for exclusive events, giveaways and challenges along with almost 7000 people around the world. We'd love to have you in our creative community!
| | |
| --- | --- |
| Instructor: | guest |
| Instructor Bio: | Guest instructor Eileen Hull. (sorry, no discounts on guest instructors) |